Arun Sudhaman 14 Oct 2013 // 7:54AM GMT
The
ICCO Summit in Paris last week
featured plenty of thought-provoking discussion from the assembled agency heads. APCO's
Margery Kraus
and Porter-Novelli's
Karen Van Bergen
issued a rallying cry for greater diversity in the industry; FleishmanHillard's Dave Senay and GolinHarris' Fred Cook explored the
'agency of the future'
; and, Huntsworth CEO Lord Chadlington reprised several of his themes from recent years to develop a 12-point primer for agency success, as summarised below by
@Prezly
: [caption id="" align="alignnone" width="614"]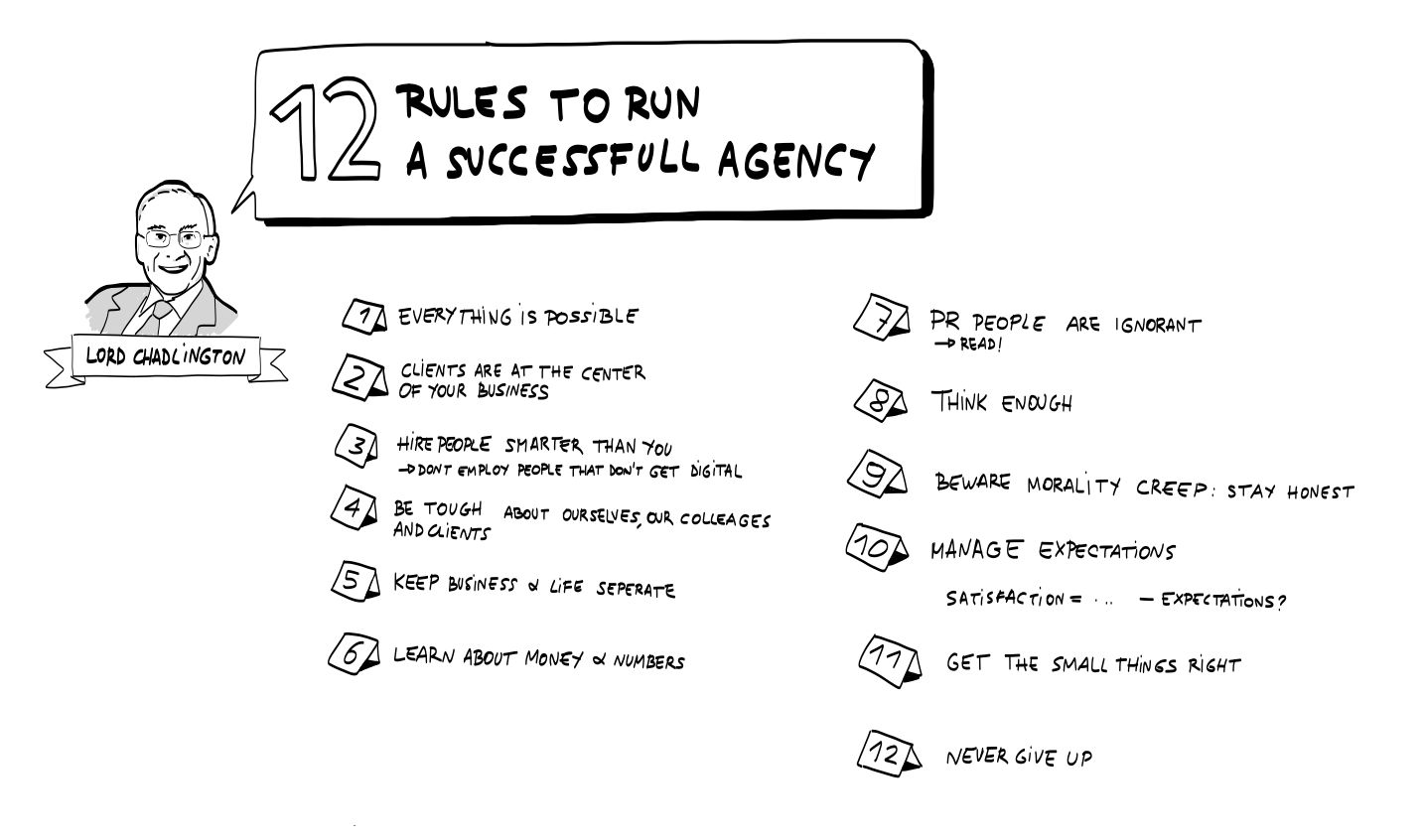 Lord Chadlington's 12 rules for running a successful PR agency[/caption] Perhaps none  was more thought-provoking, though, than the final presentation of the week — when Ogilvy PR CEO Chris Graves outlined, in animated terms, the five forces that are reshaping how the PR world must operate.
1. Hacktivism and brandjacking
Graves used the example of 'Chevron Thinks We're Stupid'  below, to demonstrate how activists like the Yes Men are increasingly framing their 'brandjacking' campaigns through the prism of popular entertainment. Also mentioned was Greenpeace's memorable
Shell 'Arctic hoax' initiative
, which included a spoof press conference and fake ads. "As we come up against people who don't need much money to have really high-end tools in terms of activism, if we're not funny or authentic, they are going to be it for us and we're going to be the butt of jokes," explained Graves, noting that the typical default response — "let's sue them" — is not exactly a smart idea.
2. SoLoMo
The confluence of social media, location-based marketing and mobile technology, said Graves, is forcing brands to reassess how they try to connect with people. This trend is particularly critical in a retail environment, where "big data" can now be used to address specific customer needs.
3. The sharing economy
The logical conclusion of the 'SoLoMo' trend, said Graves, is a 'sharing economy' that sees communities (rather than corporations) renting out spare capacity. "There are now dozens and dozens of companies that have used this model," said Graves, pointing to such players as AirBnB, RelayRides, Rent The Runway and DogVacay. "It turns our economic model completely upside down," he added.
4. Behavioural and neuronarrative
Graves has long been an advocate for a better understanding of behavioural economics, neuroscience and narrative theory, as a sort of "effectiveness filter" that can help predict why people make specific decisions. He cautioned, however, that much of neuromarketing field is "being too lazy in an effort to productise it too fast, and it becomes too facile." Instead, Graves believes that there are some specific findings which are of particular use for PR people that are seeking to improve their persuasion and engagement skills. "Humans are completely irrational in their decision making — that's the bad news," he pointed out. "The good news is they are consistently irrational in their decision making." Firstly, said Graves, how arguments are framed is critical. For example, humans fear loss much more than they appreciate a gain. "Framing a choice as avoiding a loss can be more powerful than reaping a gain." As another example, Graves used Expedia's gay marriage ad below. "Emotion rules all decision-making", he explained, citing research that shows humans often deny evidence, thanks to an inbuilt confirmation bias. The solution? "Create a story with which you can empathise," he said. "Evidence and facts backfire. Your communications and persuasive approach must include emotional aspects rather than depending on pure fact to win the day. " Graves then used the idea of 'social proof' to explore how difficult it is to create a movement. "People are numbed and cynical and they also feel their own participation won't make a difference." Several studies, though, demonstrate that people will deny facts just to be part of the group. Similarly, people are more likely to act if they feel that others around them are behaving in the same way. "Instead of lecturing your target audience or telling them what they are doing is unhealthy or wrong, tell them all the people they like and respect are already doing this better behaviour."
5. Content frenzy
Graves fifth force relates to the
surge in content marketing
, which tends to be based on the premise that "every company must become a media company." Graves is not so sure, pointing out that native advertising may simply be a method to make ads look like editorial. "As this is all taking off, there are concerns that it is irrationally ebullient, it is a gold rush and that not all companies will create good, deep content," he said. "Instead, there is a fear we may be headed toward an avalanche of crap!"